Our Story
How we met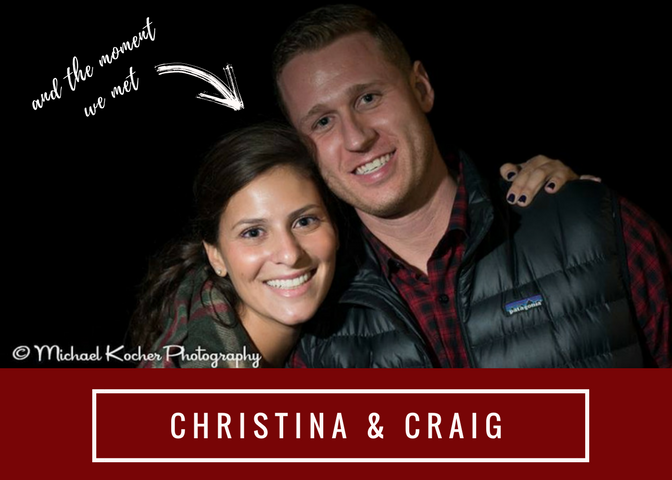 Craig and Christina met in October 2014, when she was working for Home of the Sparrow, a nonprofit for homeless and low income women and children. She was hosting a fundraiser at Pennswoods Winery, a local vineyard in Chadds Ford, PA, and interrupted a conversation between Craig and our volunteer photographer, Michael. Christina just wanted Michael to come snap a picture of her friends. Craig thought Christina was interrupting because she wanted to get a picture with him so she threw her arm around him like they were old friends, Michael snapped the picture, and the rest is history.
The Proposal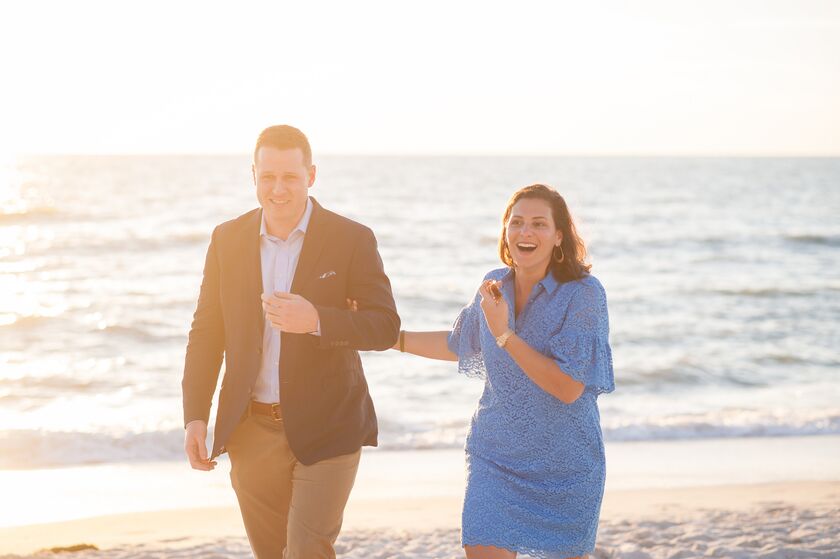 Way back in Christmas 2017, Santa left Christina a voucher for a roundtrip flight to Florida to visit her parents in her stocking. Christina didn't think anything of it as Santa often left vouchers for activities at the Vaganos household. Over the winter Christina dreamed about warm weather in Florida and after a lot of back-and-forth on scheduling Christina finally scheduled flights for the second weekend in March 2018.
If you remember anything about March 2018, it's that the Philadelphia area was hit by multiple nor'easters and Christina's flight was cancelled the day she was supposed to fly out. The airlines put her one a flight for early the next morning, but before she went to sleep that night they cancelled that flight as well. Christina called her parents and said she was thinking about rescheduling for another weekend, but her parents insisted that they didn't have any available weekends left and she absolutely had to come that weekend...again Christina didn't think anything of it. Christina was rebooked on a flight later that day, which turned out to be only one of a few flights that actually made it out.
Meanwhile, Craig had been telling Christina for weeks that while she was in Florida he was going to take the opportunity to visit his Mom's family in Connecticut since her rarely had a free weekend to make the drive. Craig's mom even played into it by asked Craig which aunt or uncle he was going to be staying with on his trip that weekend when Christina and Craig were speaking to her on speaker phone.
Christina met her parents in Naples, Florida and did all the normal Floridian things...laid out by the pool for a tan, got her nails done, went shopping with her mom, and planned to get cocktails with her parents and an old family friend, Jenny, at the Ritz Carlton on the beach in Naples while the sun was setting. Going to the beach to watch the sun set in Naples before heading off to dinner is a normal activity so again...Christina didn't think anything of it.
On Friday, March 9th, Christina and her parents dressed up for their fancy sunset cocktails and headed to the hotel. Christina was texting with Craig the entire way and Craig was telling her he was driving on 95 through the snowy weather on the way to Connecticut and he couldn't talk to her. When Christina and her parents got to the hotel they met up with Jenny at the hotel. Jenny took them on a quick tour and walked them towards the beach bar and down to the beach. All of a sudden, Christina realized she was walking alone and there was a well dressed man waving at her at the end of the walkway to the beach. Christina couldn't tell who it was, because the sun was behind him. As she got closer she was thinking that this man looked a lot like Craig and all of a sudden she realized that it was in fact Craig. At first Christina just thought Craig was surprising her in Naples, but then she realized Craig was all dressed up and it hit her that he must be there to propose.
The first thing out of Christina's mouth was, "what are you doing here?!" Craig laughed and asked her to go on a walk. A photographer had been hiding and popped out to capture pictures, while Christina and Craig walked. Craig said some beautiful words (that Christina was too in shock to actually hear at the time) and he dropped to one knee. Christina was in such shock that she didn't even say yes. She just kept bending down to give Craig a kiss or to hug him. After she put on the most beautiful ring, Craig and Christina were hugging and when they stopped Christina turned around to wave at her parents. When she looked back, she saw her parents standing there with Craig's parents. Craig's parents had also flown to Florida to be there for the engagement and had watched the whole proposal from their hiding spot behind a stack of chaise lounges.
Christina, Craig, and their parents all laughed, hugged, cried, and took pictures with the newly engaged couple, before heading to dinner at the Ritz.
If you know Christina, it's not easy to surprise her, but to say she as surprised by this proposal was an understatement. She told Craig a long time ago that she wanted to be surprised when they got engaged and to say she was surprised would be an understatement. She had absolutely no idea. Craig thought of every detail and stayed calm even when the weather was not cooperating, which should come as no surprise as Craig's thoughtfulness and patience are some of the traits Christina loves most about him. They spent the rest of the weekend celebrating with family and toasting to a lifetime ahead.
It was truly the perfect proposal and a truly incredible way to start their lives together on a beach in Naples with their parents by their sides.